Concert Pianist /Conductor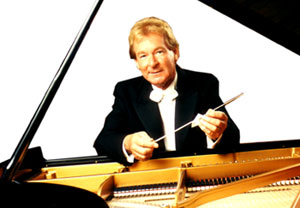 Brian Stanborough's musical career as Concert Pianist and Conductor scans more than four decades. Following his concert debut at the age of eight, his career proper took off just two years later. Living and having worked in London for many years, where he enjoyed a most remarkable and brilliant career, he was engaged by Le Grand Théâtre de Bordeaux for a Season as Assistant Conductor. The Director of the Bordeaux Opera launched and promoted Stanborough's Concert and Conducting Career in Paris and the provincial Cities, Radio France,French Television and the principal French Festivals.
Sharing his time between London and France, Brian Stanborough is currently Resident Conductor and Artistic Director of the Bordeaux International Choir and continues his frequent busy schedules of Concerts and Master Classes in Europe,America and Australia.
Brian Stanborough has recently been appointed Artistic Director for the Festival in CRETE where he will play three Concert Programmes in the 2006 Festival.
He has Coached and Performed with such illustrious Stars Artists as
Jon Andrew : Wagner-Traüme, R.Strauss-Ich trage meine minne, R.Strauss-Zueignung ,
Martina Arroyo,
Gabriel Bacquier,
Robert Bickerstaff,
MacHenry Boatwright,
June Bronhill,
Grace Bumbry,
Stuart Burrows,
Montserrat Caballe Strauss 1, Strauss 2, Granadas-El Vito,
John Davies,
Denny Dayviss, in the still of the night, Laziest gal in town, Old fashioned
Ghena Dimitrova,
Placido Domingo,
Sylvia Fisher,
Françoise Garner : Norma-N.C.O.A - 1996 ,

Christian Lara - Samson

Yasuko Hayashi,
André Heijboër,
Marilyn Horne,
Kiri ti Kanawa,
Robert Kerns,
Christian Lara,
Robert Massard,
Sherill Milnes,
Luciano Pavarotti,
Leontine Price,
Joseph Rouleau,
George Shirley,
Joan Sutherland,
José Todaro,
Alain Vanzo,
Shirley Verret ,
Felicia Weathers,
Teresa Zylis-Gara....
and Conducted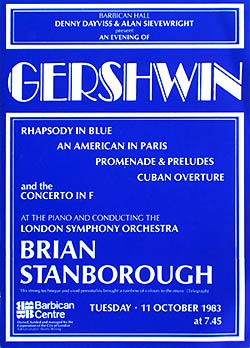 London Symphony Orchestra Barbican Center London - Programme Gershwin : Ouverture Cubaine et Promenade

Mozart Bicential Year - 40 concerts with Chamber Orchestra "Camarata Atlantis"
Inaugural Season of the Australian National Chamber Opera Sydney and Noumea : Sinfonia Norma

George Gershwin and Johann Strauss II Centenary Concerts France
Royal Wallonie Orchestra Belgium
Concerts Brian Stanborough has played in all major French Festivals

Aix en Provence, Orange, Vichy, France Musique, Mozart Festival Cannes, Bordeaux ....and Corsica
Festival Mediterranean
Jazz Festival Draguignan ( Côte d'Azur)
Festivals of Torre del Lago (Puccini) and Verona Italy
Festivals Athenes, Sydney, Vienna.
Distinctions

Ralph Vaughan Williams and British Arts Council Scholarships.
Eric Rice Memorial Prize London.
Twice nominated "Musician of the Year" for his Gershwin Concert with L.S.O. George Gershwin-Ouverture Cubaine

Oscar Verona Festival ( Italy) ;
Gold Medal and the Robert Stolz Award / Diplomas (Twice) Vienna : Atlantic Seaport Place de la Concorde Waltz Nocturne
Master Classes

Appointed by Aldo Ciccolini as Director of Piano Studies Conservatoire Pamplona (Spain)
Joan Sutherland Performing Arts Center Sydney
MacDonald's School of Performing Arts Sydney
International Theatre and Cabaret Performing Training Seminar Sydney Opera House
The Australian International Conservatorium of Music Sydney
Numerous French and Corsica Cities ( Nice, Montpellier, Sète, Perpignan, Ajaccio..)
New World Theatre School of Arts Miami USA
Press
" Brian STANBOROUGH's playing colonizes the wide open spaces , the stark , grandiose landscapes of these pieces and lays bare the soul of the music. With his flawless technique he makes every note vibrate , revealing a great poetic sensibility"
"His music-making has the violent tenderness that attends every birth or re-birth . The imperious, velvety chords that he draws from the piano transfigure the music like the sun breaking through the clouds" Gramophone-Europe
"He conducted The Marriage of Figaro with authority and insight and accompanied the recitatives at the harpsichord with as much facility as he conducted Midi-Libre - France
"Outstripping mere technique, he became one with the music : rarely has a virtuoso brought out so much of the emotional content" Le Figaro - France
" His strong technique and vivid personality brought a rainbow of coulours to the music" The Telegraph-London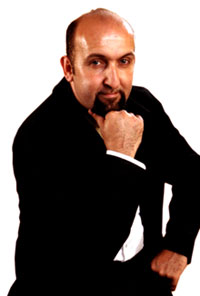 André Heijboer
Seasons 2005/2006 :
Brian Stanborough has played and continues to give concerts in in Paris and major French Cities, London, Bournemouth, Miami and Australia and invited regularly to Miami for Master Classes at the New World Theatre School of Arts.
Has conduced for the B.I.C. many performances,including 100 Years of French Operetta, American Musical Comedies, West Side Story, Two Operas - Dido and Aeneas and the French Premier of the Robert Stolz Opera Die Rosen der Madonna, The Messiah, Gounods Saint Cecilia Mass and in 2006 will conduct Schuberts Mass in A flat and the Pergolese Stabat Mater.
Has recently recorded with Helden Tenor Jon Andrew, Dvoraks Gipsy Songs,The Wesendonck Lieder of Richard Wagner and various Lieder of Richard Strauss

Wagner-Traüme,

R.Strauss-Ich trage meine minne,

R.Strauss-Zueignung and Schuberts Der Winterreise with French Baritone, André Heijboër

Gute Nacht,

Erstarrung,

Der Lindenbaum,

Das Wirtshaus